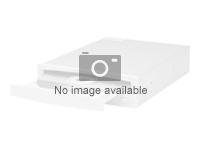 HPE - Platestasjon - DVD±RW (±R DL) / DVD-RAM
8x/8x/5x - Serial ATA - intern - HP-jakksvart - for ProLiant DL180 Gen9, DL360 Gen9, DL380 Gen9, DL560 Gen9, ML10 Gen9, ML110 Gen9, ML30 Gen9
Informasjon

Perform local back up or retail/branch office configuration archiving
Locally install software/patches or load data
Get an OS boot disk that is larger than traditional floppy drives
Enjoy the support with DVD capacity

The DVD RW drive is capable of reading DVD 4.7 GB through 8.5 GB media. It can also read standard stamped, CD-R, and CD-RW media. This drive supports writing to CD-R, CD-RW, DVD +R/RW, and DVD -R/RW media. The DVD-ROM drive is designed to read not only CD-ROM and CD -R/RW discs but also DVD-ROM, DVD-RAM, DVD +R/RW and DVD -R/RW discs.