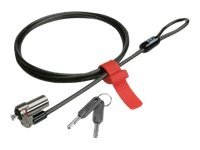 Kensington MicroSaver DS Keyed Ultra-Thin Notebook Lock
System, bærbart sikkerhetssett - 1.5 m - for Celsius J550, W570, W580; CELSIUS Mobile H970; ESPRIMO D538/E94, D556, D738/E94, D957
Informasjon

Nearly impenetrable disk style keyed locking mechanism
Attaches to ultra-thin notebooks via the Kensington security slot found in 99% of notebooks
Patented T-bar locking mechanism provides superior strength and theft protection
Super-strong carbon steel cable provides greater security in a 10%-thinner design
A rotating head and pivoting cable allow you to easily connect to your notebook and position the lock

The Kensington MicroSaver DS Keyed Ultra-Thin Notebook Lock is designed for the ultimate defense of even the thinnest notebook. The nearly impenetrable disk style keyed locking mechanism along with an advanced cable design provides greater security. And with the rotating, slim lock head and a pivoting cable you can be sure it'll attach easily without getting in the way.