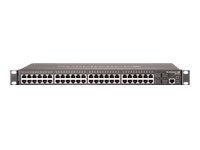 Supermicro SSE-G2252
Switch - Styrt - 48 x 10/100/1000 + 4 x SFP - stasjonær
Informasjon

Layer 2 switching
Non-blocking connectivity
1U form factor for flexible installation

Supermicro extends its "we keep IT green " initiative with a pair of powerful 52-port 1-Gigabit-per-second Energy-Efficient-Ethernet switches. The SSE-G2252 provide 48 ports of 1-Gbps Ethernet connectivity with RJ45 connections as well as an additional four 1 Gbps ports with SFP connectors.

This Layer 2 switch offers extremely cost-effective networking in SMB or data center environments. It provides a choice of management interfaces using either a Web-based GUI or an industry compatible command-line-interface. The PoE model makes possible rapid installation of PoE-based wireless access points for conferences and shows, support for VoIP phones, as well as PoE surveillance cameras and a myriad of the PoE devices becoming available on the market.

The SSE-G2252 also offers a full range of popular Ethernet features like Jumbo Frames, Link Aggregation, VLANs, and quality of service. All of this is done in a compact 1U form factor for maximum flexibility in rack-mount installation.